---
Oral poetry sounds. In other words, it is also aural poetry. This claim serves as the foundation of this essay, and while it may not seem particularly revolutionary, such a notion has considerable potential not only to bring studies of oral poetry into fruitful dialogue with other emerging fields of academic inquiry—for example, sound studies, media studies, and the anthropology of the senses—but also to offer some meaningful reflection, in this age of digitization and hypermedia, on what we actually mean by "oral poetry." Stated succinctly, we cannot understand orality without consideration of sound. In particular, the histories of sound and listening at stake here are closely connected to recording technologies that simultaneously respond to but also shape our sensory experiences of oral poetry. Furthermore, those histories of mediated sound likewise point to a multisensory realm that extends far beyond the oral and aural. These claims emerge from that most canonical of corpora, South Slavic epic song, one of the most important sources for generating our current notions of "oral poetry." Somewhat paradoxically, listening carefully to this tradition and its sonic qualities makes clear that oral poetry is less exclusively oral than its name indicates, begging the question: how oral is oral poetry?
Put crudely, Saussy re-imagines orality as a kind of technological process without the technologies. For my part, I will be especially interested in how orality is in fact co-constructed with material recording technologies. There is no singular sensory experience of orality; but to the degree "orality" as such exists, I would argue that it is bound up with the documentary machinery that allowed it to be inscribed in places besides "other human minds." In what follows, I first explore briefly the question: what kind of medium or art form is oral poetry? To answer that, I turn to the longstanding debate in art history about medium specificity. I then look to specific examples from the Milman Parry Collection of Oral Literature to capture some of the ontological slipperiness of orality in the context of the South Slavic traditions Milman Parry and Albert Lord documented and analyzed: pictures that sound, voices that map space, and videos that reveal the inescapable contingency of performance.
On Pesma; or, The Multisensory Poetics of Poetics
It seems fitting, then, that the introduction of South Slavic poetry to Germany and Western European elites in general came around the same moment as Kittler is describing, with Goethe, the Grimms, and other figures championing the poetry—once it was made available in written form by South Slavic collectors (i.e., inscribers-of-poetry) like Vuk Karadžić. This media malleability of poetry highlights what must have been immediately obvious to all 19th century readers: that such poetry, oral-turned-written (but still entailing voice, if Kittler is correct) as it was, destabilized the emergent categories of literature that Goethe and others were simultaneously producing. In other words, since the first attempts to make oral poetry legible in a graphocentric culture, such poetry has always vacillated richly (or awkwardly, for those who would muscle it into the debates of medium specificity) between music and literature, sound and text. The confusion of the Yugoslav government only confirms what a threat verbal arts posed to any universalizing notion of "medium specificity" that might try to subsume them. Furthermore, to echo the arguments of several of the authors in this volume, oral poetry often blurs these distinctions of medium even more stubbornly than its written counterpart: it has a strongly visual component, and I will show here other sensory modes that are implicated as well.
To move from "medium specificity" to the specificities of oral poetry requires a few observations. First, as alluded to above, oral poetry is much more than a singular medium and defies much of the discourse surrounding "medium specificity."
Third, the history of oral poetry is inextricably linked with the history of its recording—its integration into "writing-down systems"—such that the poetry shaped the kinds of technologies used for recording, and in turn, these recording apparatuses have long (if not always) impacted the way such poetry is performed. These technologies of inscription might encompass large-scale institutions and technologies like the vocalic alphabet (Powell 1996) but come into clearer focus with recording technologies like the phonograph (first used to record a nursery rhyme and quickly taken up in the service of the anthropology of sound/music) or even more specifically, the sound-recording apparatus that Milman Parry commissioned from Lincoln Thompson to circumvent the limits of commercial phonographs, gramophones, parlographs, etc (Mitchell and Nagy 2000:x-xi).
Media as Synaesthetic Reduction
I. Images of Sound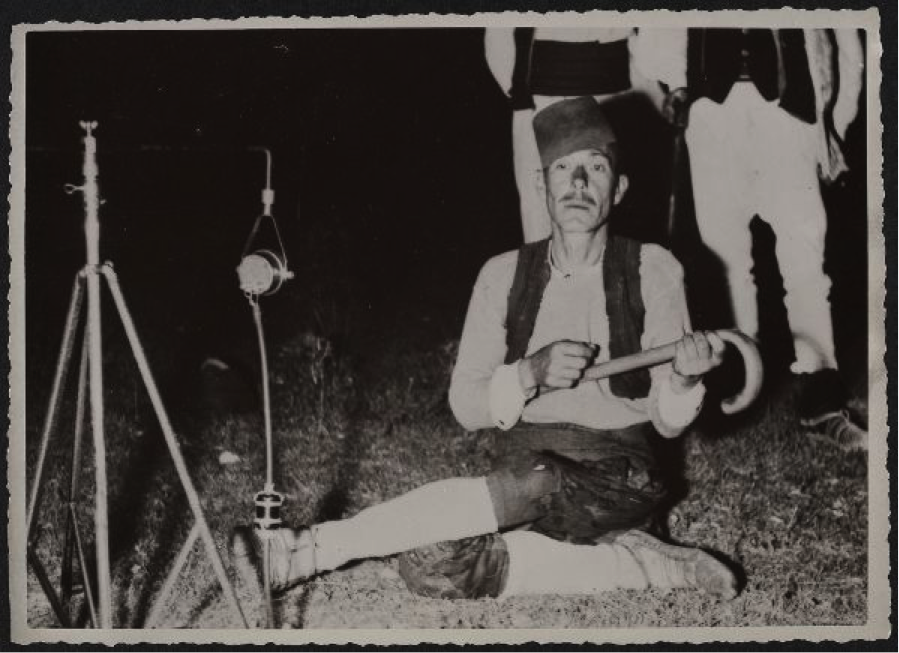 Milman Parry's photographic efforts have received little attention, yet they offer significant insight both into the performance tradition and into Parry's research methodologies. Two general observations about the photographs have relevance for my discussion here: first, many of them occur in series, creating a kind of proto-cinematic sense of temporal visuality; and second, a significant number depict not only the singers (an obvious choice) but also the recording technologies used, ranging from the common and (relatively) rudimentary (pen and notebook) to the idiosyncratic and complex (the famed two-turntable apparatus Parry commissioned from Lincoln Thompson). For my present purposes, I am especially interested in the intersection of these two groupings of photos: sequential images of the recording devices taken, which function as a meta-documentary medium consisting of moving pictures about recording.
One of the features of the photos Parry took—and perhaps a more general phenomenon in taking photos—is that photos often come in series. This sequential aspect of photography is built into the medium, with the constraint of only being able to take a single picture at once. It also emerges from the flow of activities: I pull out my camera and take a photograph right now in this room, then in the hallway with a colleague, then outside, and so on. The logical sequencing of action is mundane—we hardly think about it, and all the less when we are taking photographs with a digital camera that barely limits the quantity of pictures we take. And yet, such series clarify much of what is happening temporally and spatially beyond the frame of a single image, bridging the space between the photograph and moving pictures. Parry's documentation of the recording apparatuses he used—and the implications of sound, and the reproduction of sound embedded visually in them—is of particular interest to me as evidence of recording devices whose whereabouts are no longer known. Yet in several cases, he created not just a single image of recording but a brief sequence—a burst of images that animate the act of recording, highlighting the kinds of sonic temporalities inherent in photography, especially photography of sound, and the temporalities of recording more generally.
For example, a whole series of near-identical photographs were taken of Parry's assistant, Nikola Vujnovi, recording in front of a parlograph at the Pansion Viktorija in Dubrovnik, essentially variations of this photograph (Fig. 2), all depicting Vujnović sitting with slight movements of his head and body.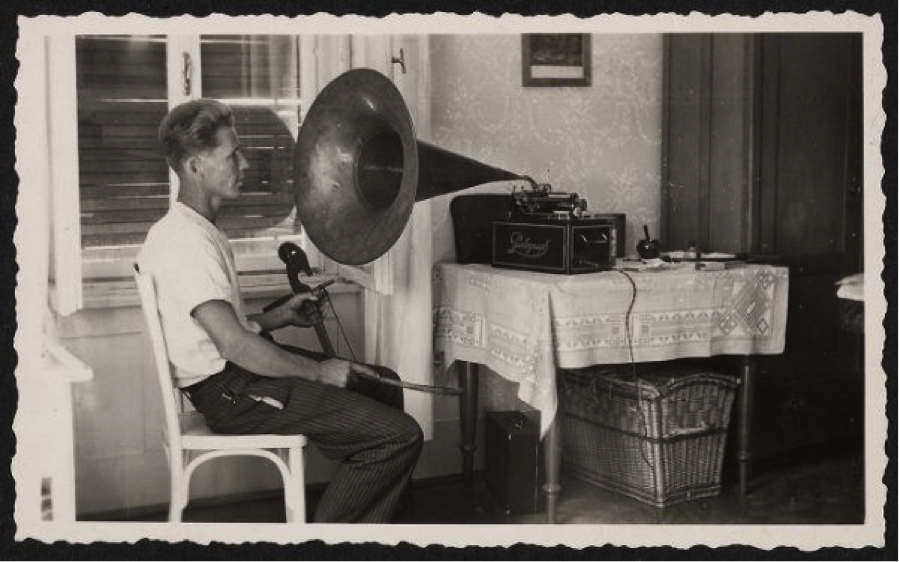 Before Parry commissioned his famous two-turntables-and-a-microphone from Lincoln Thompson, he used a parlograph as seen here with Vujnović. The photograph not only offers a compelling visual portrait of one of the most important figures in the entire project, it also makes clear how unwieldy such a device would have been for singers like Smajić, who appears behind a much smaller microphone while sitting outdoors.
In addition to the photograph looking straight on at Smajić, another cinematic series (Figs. 3-6) photographed at that recording session gives a sense of one possible configuration for recording, especially outdoors. While the order of these images depicting Smajić is difficult to ascertain, several significant points arise. First, Milman Parry's car can be seen, a critical vehicle (literally) for traveling and for powering the recording device. The microphone is set up at considerable remove from the actual recording equipment, allowing for a quieter recording (and also giving some indication of what kinds of distances were possible and perhaps necessary for recording). Second, several people gather around for the performance, but for the most part they seem to be seated at some remove from Smajić, presumably to minimize other sounds in the recording. (The question of audience interactivity or lack thereof in Parry's work remains unclear, but there are clear traces throughout the archive that it was not unheard of to have various kinds of audiences at a recording session.) Third, Vujnović can be seen lying on the ground next to Smajić, suggesting that his role was not always one of immediate engagement with the singer—these could be lengthy songs and presumably recording created additional technical and logistical delays—though he is the only one who remains at Smajić's side throughout.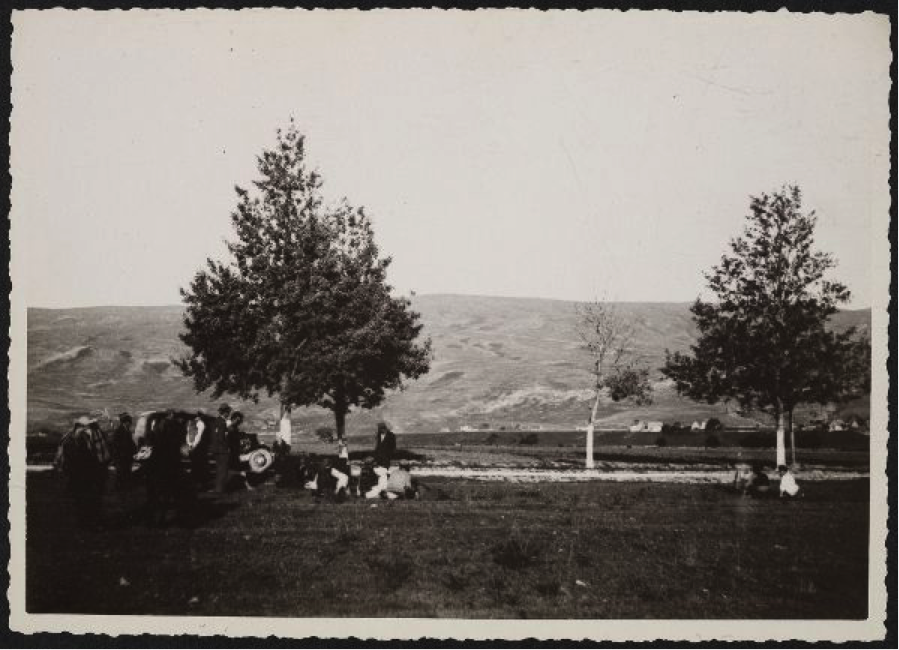 Strikingly, these two sequences of images were taken within a week of each other: Cicvarić on September 22, 1934, Smajić on September 27, 1934. Another iconic photograph of the apparatus at Kulen Vakuf (MPC 0714) was taken in the intervening days. Such a clustering of meta-documentary seems to be intentional—a sudden upsurge in interest or ability to document process. Whatever the reasons, these photographs show the complex intersection between material technology, the aural and visual realms, the emplacement of recording, and the cinema of "still" photography. The apparatus becomes a social mediator too, bringing together women and children, as well as men, albeit with a tentative gender separation.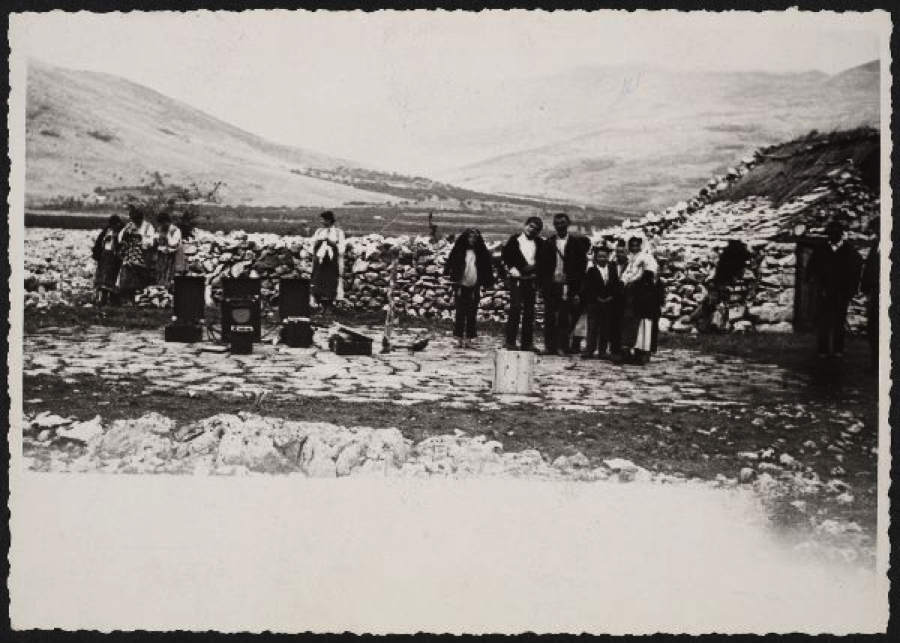 II. Sounds of place
III. Acoustemology and Obrov
Media as Synaesthetic Catalyst
If these media inherently pare down the sensory experiences they document—reducing a rich world of sound, sight, and likely smell and taste—they paradoxically also catalyze new sensory experiences as they are played back in the present. Or in other words, while recording violently severs much of our sensory world in the name of documentation, it prompts, or gives back a whole new set of possible sensory and social possibilities. These media almost literally have a life of their own.
A strangely similar experience—but with very different implications for the material legacy of Parry and Lord—took place in 2009 while I was doing research in Macedonia. Impressed by my exchanges with Zaim, I thought I would try to track down other singers who had recorded for Lord in the 1950s. As Miloš Velimirović had recalled, much of Lord's focus by 1950 was on Macedonia, and I hoped I might find more people like Zaim who were still alive and remembered his visits. After failure in a couple villages, I made one last attempt, traveling to Pletvar, near the city of Prilep, where Lord had recorded several members of the same family in both years, and was pleased to find Rampo Šijakoski alive and in good physical health.
Abbreviations
Works cited
Footnotes
---