---
1. Background: What is Textometry? How could it concern Classical Studies?
1.1 What is textometry?
Textometry is a computer-assisted textual analysis method that is based on word counts (or on any linguistic feature counts) and that links statistical processing to data referencing and contextual comparison. Main textometric functions are specificities (a keyword computation), correspondence analysis (a geometrical view of the corpus content), cooccurrences (lexical collocations), and KWIC (Keyword in context) concordances (for a technical presentation of these functions, see appendix, section 5).
Compared to other text analysis methods, textometry is a balanced combination of quantitative and statistic methods on the one hand, and qualitative methods on the other hand. It occupies an intermediate position between text mining (which replaces the textual data by quantitative summaries, extractions, and visualizations) and annotation software (which enrich and investigate a detailed view of the text); in other words it achieves both a close reading and a distant reading.
1.2 What is TXM?
The aim of the Textometry project was for the new software to be able to fully manage and analyze state-of-art corpora, that is, structured and annotated corpora, like TEI corpora. Another aim was to launch an open-source development the partners could share.
1.3 Three (Functions) in One (Digital Edition): Reading, Searching, Analyzing
As textometry pays attention both to complex queries and statistics, and to fine text reading, it can be a new unified framework for digital editions in a classical studies context. With a TXM solution, for example, humanists are not compelled to choose between either a digital edition, or a database, or a search engine, to study and publish their text corpora.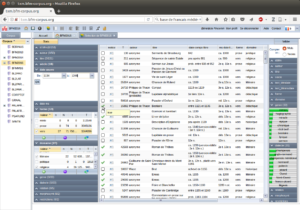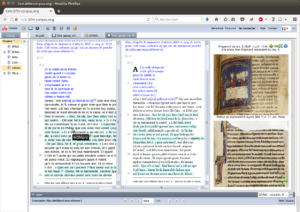 Thus with this example we see that it is possible to give the same text a unified digital edition that offers all together searching facilities, database querying, and an elaborated and precise layout. The aim of the two following sections is to present in concrete terms what kind of investigations may be done within such a framework, in the context of ancient Greek studies and current digital resources.
2. Corpus Example: Plato's Work, from Perseus to TXM [9]
2.1 Choice of the texts
2.2 From Perseus TEI encoding to TXM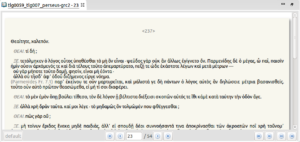 Bibliographic references encoded with <bibl> element in Perseus texts are declared and processed as a kind of note element for TXM XML-XTZ import: as such, they get a relevant display (see Figure 5) and are not mixed with the Greek content.
Every annotation made in Perseus texts, for instance, named entities (<name>, <persName>, <placeName>) or quotation tags (<q>, <quote>), are automatically available in TXM for search and analysis. An associated rendering could be added through the CSS stylesheet parameter if desired.
3. A Typology of Textometric Analyses
We have chosen to organize the typology according to the user's needs, that is, which kind of queries one would like to ask the corpus. These query types don't exactly match textometric functions, since one computation may be of use in several ways, and one type of query may get an answer through the complementary results of several functions.
3.1 Checking for occurrences and evaluating frequencies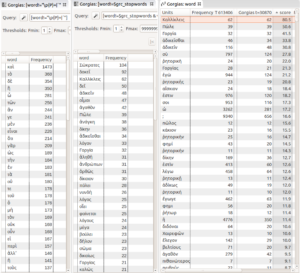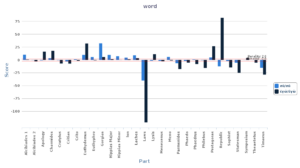 3.2 Visualizing the evolution of words or linguistic features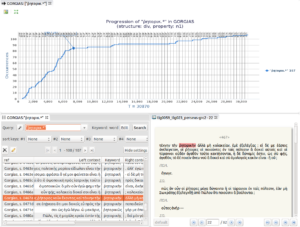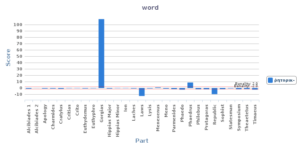 3.3 Refining a word's meaning with systematic contextual use
The KWIC concordance view is a core functionality in the textometric approach, as it shows very precisely and efficiently how a word is used in the text. The context size can be adjusted if needed, but for a view of a larger selection of text, a double-click on a concordance line opens a hypertext link to the corresponding text page with the search word highlighted. The two views are dynamically aligned: selecting a line in the concordance shows the corresponding page in the text edition (Figure 10).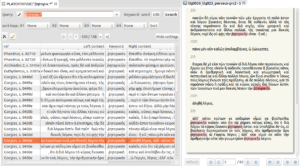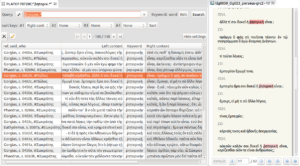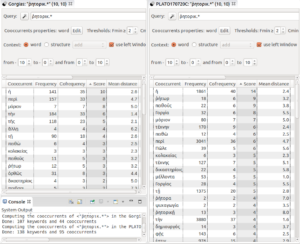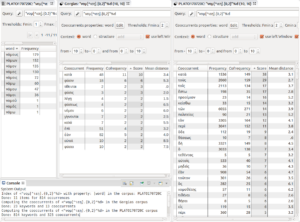 3.4 Computing corpus-based paradigmatic series
Another way of using the search engine is to build a list of words or patterns that share some constitutive or contextual feature. For instance, one could list all the lexical units including the same given morphological unit, or list all units occurring in some precise position (words ending verses, adjectives qualifying a given noun).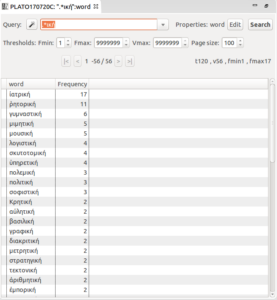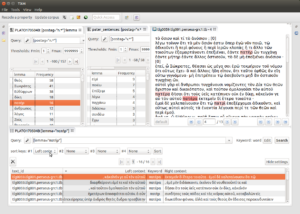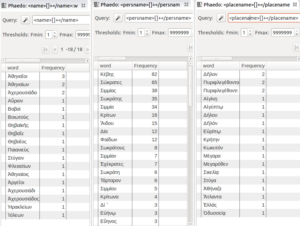 3.5 Local contrastive analysis of a corpus: Identifying what is typical in a part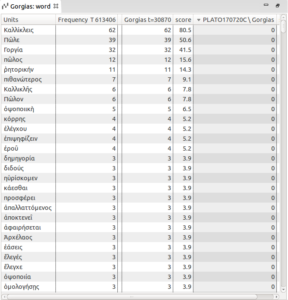 3.6 Overall contrastive analysis of a corpus: Identifying the main dimensions structuring a corpus
Last but not least, for an overall view of the corpus, correspondence analysis is a multidimensional statistical tool, which computes the main dimensions of contrast structuring a corpus (see technical appendix 5.2).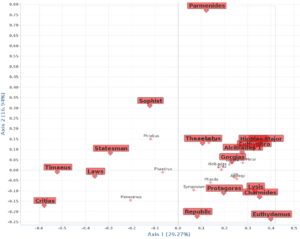 Other correspondence analyses could produce different insights into the corpus: for instance, we could focus on a lexical characterization instead of a grammatical one, and try to produce a map more related to semantic and main topics. If we had morphosyntactic information, we could choose to rely on adjectives, or on verbs, as new prisms through which the corpus can be split. We could also study our corpus from the point of view of a given lexical field and its implementation throughout the texts.
4. Conclusion
4.1 Textometry's relevance for research in the Humanities
Textometry (Lebart, Salem, and Berry 1998) can be seen as a relevant approach for Humanities research, as analysis is directly grounded in texts, not necessarily mediated by external linguistic or semantic resources, which may not be fully appropriate for the corpus and thus could bias what can be seen and found. Information is, above all, taken directly from the corpus, texts, and contexts, and does not depend on available resources, which might not be precisely adjusted to every kind of data. Lexicographical resources can be used anyway, and can add valuable information, but they do not play a critical role; one does not rely on them to access and analyze the texts. The corpus can be seen, not only through an external lexicon, but also through the words it actually contains and the way they are used. This is the first important reason to be interested in textometry: texts and corpus come first, and they are a core foundation during the whole process. The corpus is the main source of information about the texts it includes, and the way those texts use words. Moreover, textometry takes the corpus as it is: one does not have to remove unknown words; one is not compelled to normalize word forms.
A second feature of textometry is that it is not an automatic approach. In a textometric analysis, the computer does not replace the researcher, it does only what it is best at: storing and processing—that's all. Of course, processing can be complex, and it often goes much further than simple counting: as shown above, textometric functions implement algorithms, score tests, and perform complex statistical functions and elaborate visualization processes.
Actually, computers are dedicated to such intensive calculations, the very kinds of tasks for which textometry uses them. Even if a computer does a great job due to its memory and processing ability, even if it allows statistical tests or analytic procedures that would otherwise be impossible, the researcher controls all aspects of the investigations, and bears ultimate responsibility for the relevance and interpretation of computed results.
Once the corpus has been defined, the researcher keeps on driving the analysis, finding entrance points and giving sense to the results produced by queries and statistics. Textometry is based on a strong methodology; it offers a selective choice of tools that are most relevant for textual data, but there is no unique or predefined path to get results, no unique reading of a corpus. One cannot say, "let's just try what textometry tells us about this corpus," because there is not a given output for a given input, and even the input is a considered matter.
As shown in our examples, textometry combines quantitative and qualitative processing. Statistics or basic heuristics are defined that make sense on textual data (see section 5, technical appendix). Even qualitative KWIC concordance view is specifically designed to emphasize linguistic properties of the data. KWIC view is not just an exhaustive compilation of extracted contexts containing a given keyword. A textometric concordance combines several kinds of contextual displays: a tabulated view with context sorting, so as to reveal close contextual patterns, associated with references indicating useful upper-level metadata; and a page view in a full edition, providing all the graphical and typographical clues for reading and interpretation.
In such an analytic framework, textual editions can still meet requirements for textual studies in the Humanities, according to the researcher's experience that reading, analyzing, and editing, are not separate activities. TXM software, for example, can work on TEI encoded corpora, display fine HTML editions, and manage several aligned versions of the same text, including multimedia capture of the original source (for instance pictures of manuscripts).
4.2 Experiencing textometry on new corpora
We hope that this approach can become a personal experience for many colleagues, since several applications implement the textometric ideas promoted here. Our example has been realized with TXM open-source software, which is available for multiple operating systems (including a web portal version), most languages (including Latin and ancient Greek), and many corpus encoding states (from raw text corpora to TEI encoded ones). It also gives all the resources to put into TXM any corpus built from the open Perseus Digital Library.
Acknowledgments
We are grateful to our two reviewers for their accurate comments and stimulating suggestions.
5. Technical Appendix: More Information about ThreeTextometric Processes
5.1 Specificities: A statistical computation to find keywords
The specificity score (Lebart, Salem, and Berry 1998) is an application of Fisher's exact test to textual data (Gries 2012). Specificity analysis allows one to identify which words are specifically overused and underused in a part of the corpus, compared to its use in the whole corpus. It is like a keyword analysis in some textual analysis programs, but instead of using a log-likelihood, t-score, z-score, or tf.idf measure, it implements Fisher's exact test, which is known as the most accurate measure for words' frequency distributions (Gries 2014; McEnery and Hardie 2012).
Figures 6, 7, 9, and 20 show examples of specificities outputs, which point out lexical choices of some texts within Plato's work.
5.2 Correspondence analysis: A geometrical optimization to get a word-based map of the corpus
Figure 22 applies correspondence analysis to Plato's work, so that one gets a view about text similarities or oppositions for high frequency word usage.
Correspondence analysis is conceptually similar to principal component analysis, but correspondence analysis is preferred to principal component analysis here because it better fits the data. In the field of textometry, textual data are represented in frequency tables where rows are words (or other kinds of linguistic units), and columns are texts (or groups or parts of texts dividing the corpus). In this kind of table, rows and columns are both categorical variables (a set of words and a set of texts) and play symmetric roles, so structurally this is a two-way table (also called a cross tabulation, or a contingency table). Correspondence analysis is specifically designed and relevant for the analysis of such contingency tables, for which it proves getting better results than principal component analysis (Lebart, Salem, and Berry 1998:63-69).
5.3 "Back-to-text": Concordances and word-in-context functions as main features
What is called the "back-to-text" functionality in the textometric field is actually the core of textometric processing: every result (lexical list, table, or graph) must be interpreted with an eye toward corresponding words in context.
This could be a distinctive feature of a textometric approach, an efficient way to distinguish it among many current text mining proposals. With a text mining approach, one digs into texts in order to extract pieces of information, so that all the analysis focuses on these few well identified pieces instead of an unstructured full text; and visualization is often the goal, the end of the analysis, with a synthetic and suggestive view that replaces and summarizes the corpus. On the contrary, the textometric approach chooses and implements the hermeneutic circle: any statistical summary or view has to be interpreted looking back to the text, any distant reading view invites renewed close reading, so analysis cannot get rid of textual richness and complexity—it is grounded on this textual source material.
Bibliography
Footnotes
---