---
What have our tools done for us?
I do not mean to dwell too much on the extent to which each of the primitives is involved in our work. Instead, I will look at how some of them, especially discovery and comparison, factor into papyrological method and are supported by our tools. In addition to these functions, I will adduce two further concepts relevant to this discussion. The first is that of accountability, which is at the heart of scholarly research and a necessary prerequisite for good exegesis. The other is that of the humanities as a forum not only for critical thought but also for specialized data curation.
Text-Centric Tools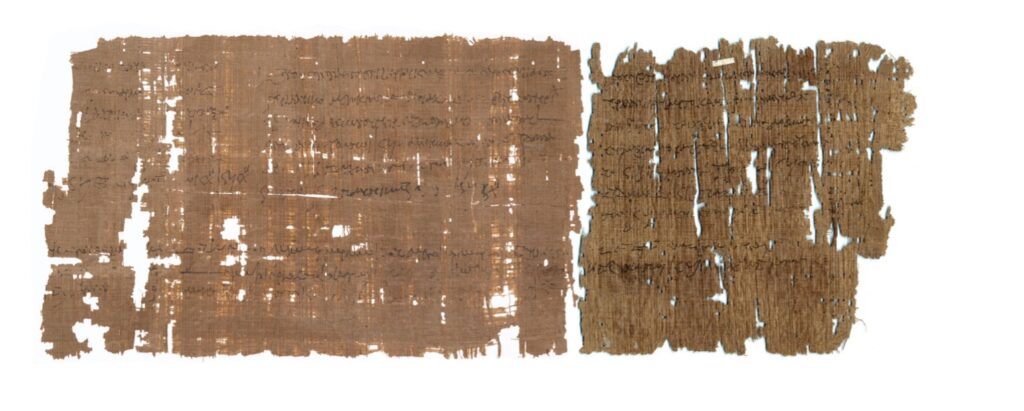 The discovery of previously unseen connections or patterns is part of the slow process by which papyrologists gain control of their data. The examples I have referred to may sound trivial, but they are what advance our scholarship, and the process has been facilitated again and again by the Duke Databank. As a result, we have gained a more refined understanding of the textual source material, which serves in turn as the basic foundation of later interpretive exercises, in, for example, legal, historical, social, and economic studies.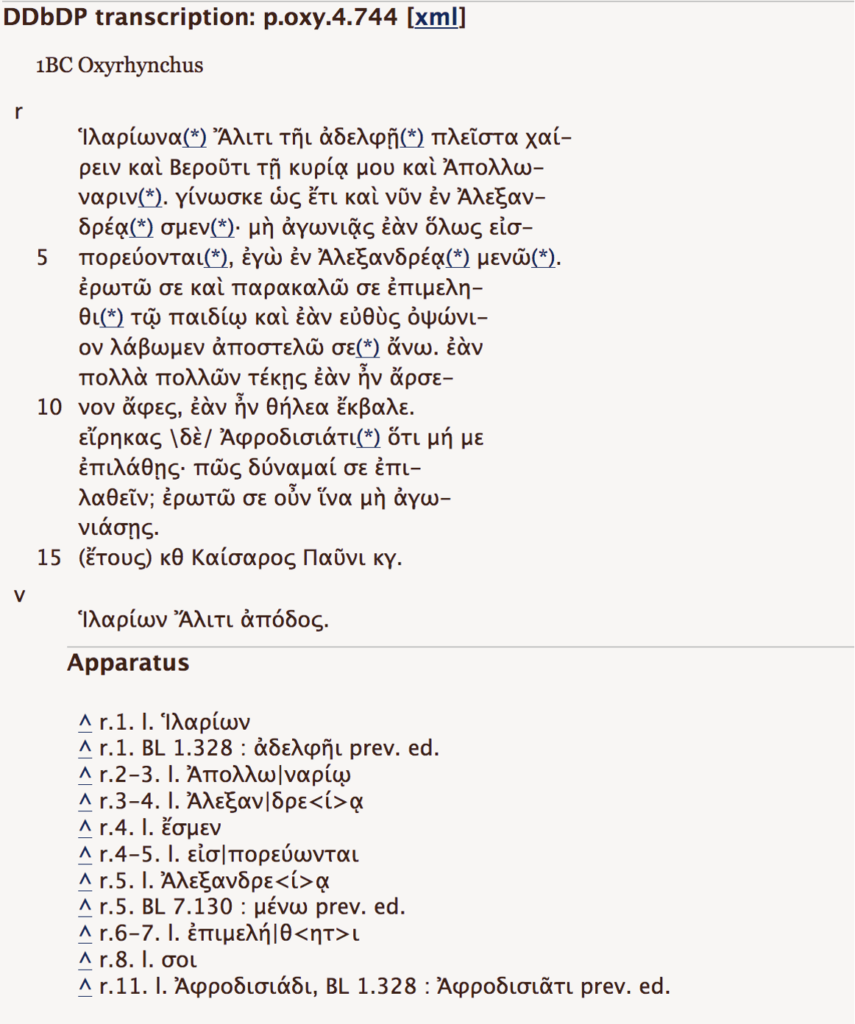 Metadata-Centric Tools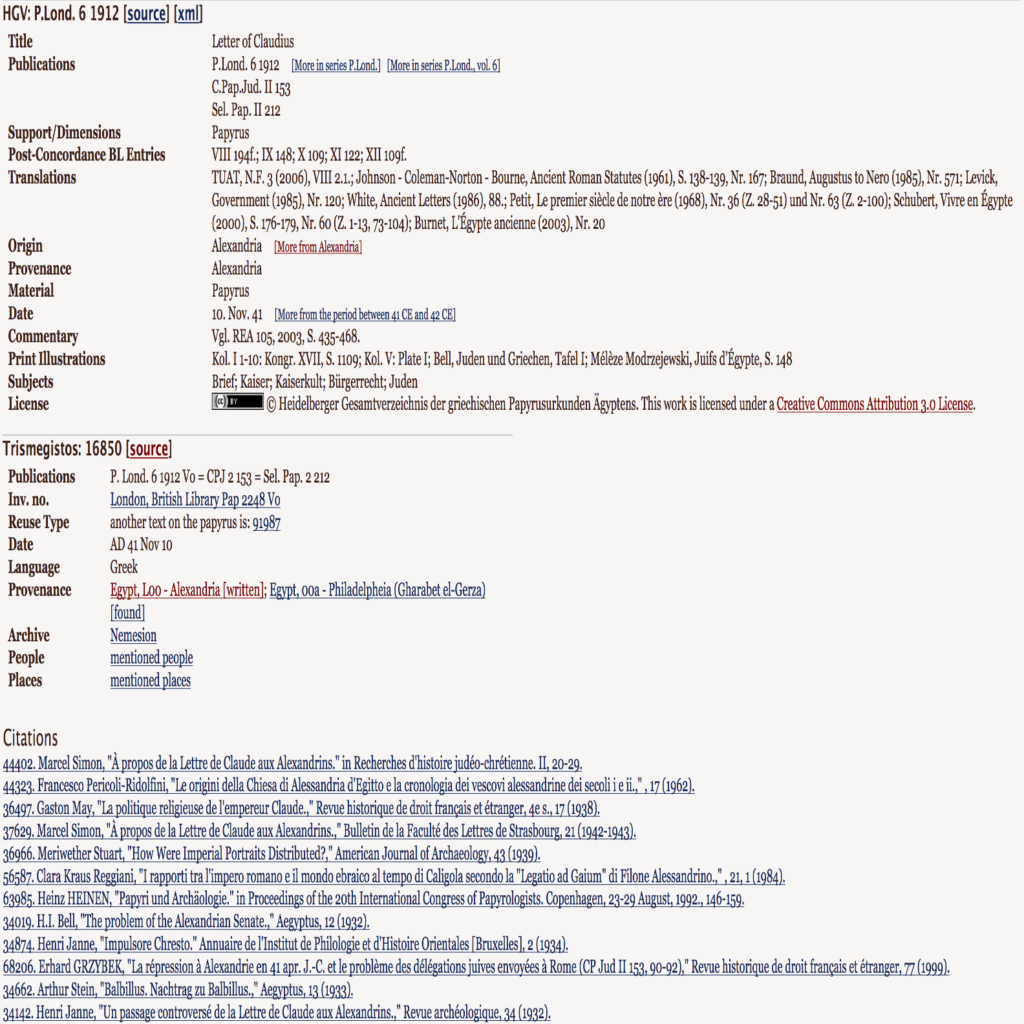 Image-Centric Tools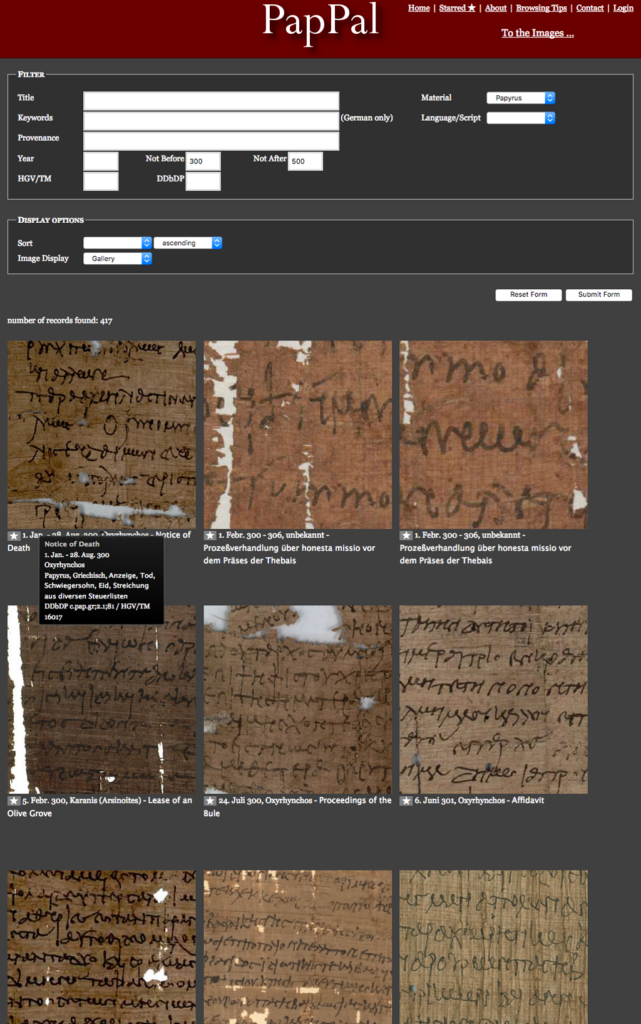 One can imagine a future in which papyrologists start annotating images as well, thereby introducing more social-based engagement with the scripts. But there is even more potential here. Handwriting (like genealogies) is a gateway to identity. A hand has unique features, similar to a fingerprint, even if it is more susceptible to false interpretation. This "uniqueness" is more obvious with cursive scripts than with bookhands, although some cursive hands can also be confused. Image banks are just waiting for processes that will allow us, with a fair degree of certainty in many cases and on a much larger scale than by traditional methods, to say that certain groups of texts or certain passages within multi-authored works were penned by a single individual whose name in some instances will be known to us. This has the potential for important insights into areas of social and cultural history, administrative procedure, and the production of writing. It might also help establish the origin of previously unprovenanced texts. Perhaps more importantly, however, the creation of central image repositories will serve a long-term preservation need, which is especially urgent when the actual artifacts are located in museums, libraries, and storage facilities that are hard to gain access to, or when there is a chance that items might end up in private hands and no longer be available to the public. Thus, in addition to the primary functions they serve, our initiatives contribute in significant ways to the sustainability of our discipline by ensuring access to evidence for future generations.
From Scholarly Aid to Curatorial Environment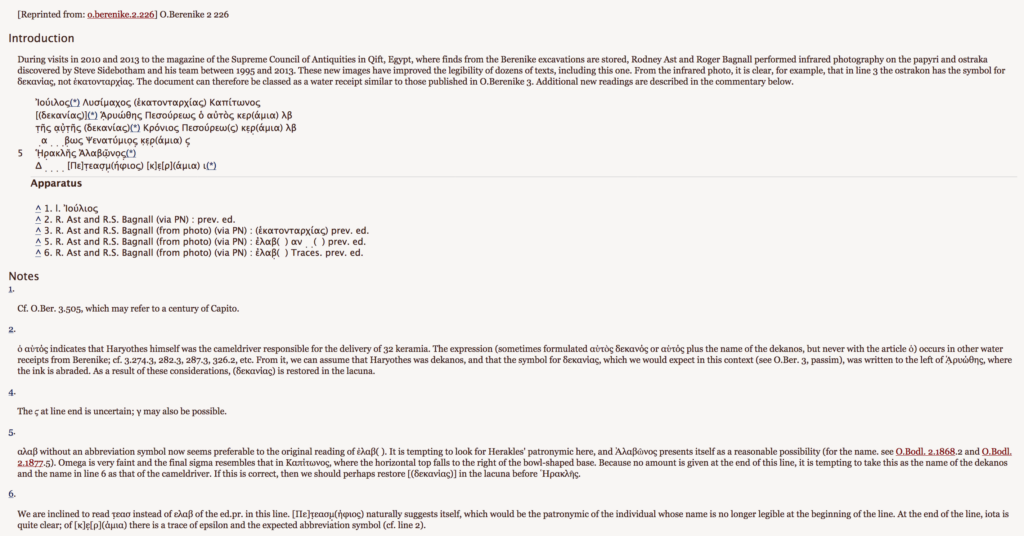 With increased scientific activity occurring online, there has been a greater tendency in recent years for the papyrological community to accept electronic texts uncritically, sometimes without any reference to traditional print scholarship pertaining to them. Many users have bestowed on online editions primary status. This has resulted in various kinds of redundancies. For example, emendation proposals that have already been registered in print elsewhere are being presented as new discoveries online. The reasons for this appear to be twofold. First, people have greater access to papyri because of digital media than they have the papyrological training to deal with them or the papyrological libraries to consult regarding them. This is not a bad thing. It has always been a stated aim of those involved in digital papyrology to improve access to the discipline's core textual evidence, thereby dislodging the field from the grip of the privileged few who have easy access to the collections. The second reason is because people have lost a critical filter (and this is not in all cases bad, either) that might have previously led them to exhaust all resources before making a claim: online scholarship is often deemed more authoritative, perhaps because it is more recent. Similarly, because this data is perceived as current, the belief is that it must have undergone all necessary quality controls. This attitude ignores the fact that the user community of papyrologists is the only body capable of ensuring quality, and if it does not assume its responsibility, it cannot expect texts and metadata to reflect current scholarly opinion. Some data is indeed current, but much of it dates back years, even decades. The trust people put in the resources is therefore misplaced, but we have reached this state of affairs for one simple reason: we do not want to use electronic data only to enhance traditional scholarly method by, for example, pointing us to printed editions that may be worth consulting; we want to conduct papyrological research on and with our electronic data.
Now, the papyrological purist might not be happy about this, and the journal editor who has to deal with flawed submissions that rely on sub-standard electronic texts will not be happy, either, but it is clear we will not prevent people from viewing online texts as primary editions. Our tools have created a practice that cannot be stopped unless we eliminate the tools, but then we will face an even greater crisis than the one of the late 90s, which I described above. The better approach, in my view, is for us to engage the scholarly community more and help them become more responsible data consumers. There is no way we are going to clean our data up systematically. The amount of labor it would take to do this on a century worth of scholarship makes it an unrealistic and counterproductive goal. Rather, there has to be a selective and iterative process of refinement driven by a sense of individual accountability. As scholars, we should treat our common textual data like scientists do their lab samples, trying to ensure its general integrity, in the hope it can then be used to draw valid scientific conclusions.
Bibliography
Footnotes
---