---
This paper, however, does not focus primarily upon what happened at Leipzig but takes note of a number of events that have taken place in the opening months of 2018 and that have some connection to, but also depend upon efforts outside of, the Digital Humanities Chair at Leipzig. Each taken separately is important. All of these events taken together reflect a broader, systemic change—and change for the better—in Ancient Greek and Latin philology in particular and, ultimately, for all philology.
The common thread among all these developments reflects changes in the practices and, most importantly, the participants in the study of Ancient Greek and Latin. They are important because they illustrate how people who are not paid to study Greek and Latin contribute to, and indeed can establish resonant voices within, the study of the past. For those of us who draw a paycheck for advancing Greek and Latin, the job is to help this wider circle of contributors as much as we humanly can. If we feel that there are ways in which others might more effectively contribute, then we must do everything that we can to help.
From Scans to Machine Actionable Text
If we could generate machine readable text for historical books available as images, we would rewrite the intellectual history represented by these books from the ground up. We cannot overstate the potential impact. The technology does not need to be developed—it already exists, and, indeed, the services and data are already available, but unused. Consider, for example, a system developed by researchers at the University of Massachusetts and Northeastern University: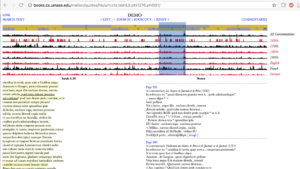 The screenshot above shows the results from scanning the uncorrected OCR-generated text of 3 million books for quotations of Juvenal through the 19th century, in English, French and German books. The system provides useful results despite the high error rate in OCR that was not optimized for Latin. This browsing environment exists and has existed for several years. The time will come—perhaps five, ten or twenty years from now—when every student of reception will start—and start they should—with a version of the system above. Almost all students of reception will assume that they would have seen the importance of this system immediately. The first researchers who seize upon this tool and exploit it have a chance to lead a reinvention of reception studies.
The German Digital Library collects books in German published anywhere but it also collects books in any language that were published in the German speaking world. Thus, if German is the primary focus, Ancient Greek and Latin also play significant roles in the German Digital Library. The German DL reports, on April 16, 2018, that it contains 8,374 scanned texts in Ancient Greek—even at 15,000 words per text, this would contain more than 100 million words of Greek. But, of course, the impact of generating machine readable Latin from this one national digital library is unfathomable: the German DL reports that it contains 473,263 Latin texts. In the first three centuries of print, the number of Latin and German texts are almost the same (228,280 Latin vs. 237,694 German). As collections from other European nations become increasingly available in digital form, the number of Latin printed texts will surely reach into the millions. For the first time, we will be able to analyze the vast—and almost forgotten—Latin space within which European culture and the idea of Europe largely took shape. This collection includes not only editions of Classical and Christian authors but early modern Latin literature and technical publications on every subject on which European intellectuals expressed themselves in writing.
We are poised for a golden age of Latin studies, one that embraces the full scope and range of intellectual life conducted over thousands of years in this Latin. But we should also note that this revolutionary development did not emanate from departments of Classics, in Germany, in the United States and elsewhere. Librarians and computer scientists have taken the lead and the great transnational heritage of Latin is being developed insofar as it contributes to the national cultural heritage of modern European languages. Here we see a common theme in the fundamental changes taking place in philology: with a handful of notable exceptions, the professional academics paid to study and advance Greek and Latin are not a driving force and often (as here) do not appreciate the importance of changes that others have already implemented.
The Scaife Viewer and the CHS Commentary System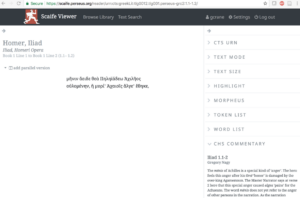 The principle represents a fundamental step forward and creates the possibility for an ecology where open commentaries rapidly emerge. A range of challenges remain but those barriers will all ultimately fall. The question is whether now is the time. There is an excellent chance that it is.
The possibilities for the CHS are particularly intriguing. The CHS is an independent research center that provides funding for researchers to conduct their own work. The CHS already aggressively promotes open scholarship and has emerged as a leading force in reforming scholarly publication. It is in the position to spark an intellectually dynamic new generation of born-digital, "smart commentaries" that can adapt themselves to the backgrounds and immediate needs of far more readers than the static publications of print culture. The popular press of 2018 has focused upon the dystopian effects of machine learning applied to user data but those dystopian effects, even if exaggerated for effect, are substantial and provide evidence of a power that can be beneficial as well.
Third, both the Perseus Scaife DL Viewer and the CHS Commentary system are based on open source code, open APIs, and open data. This means that third parties can replicate and/or augment both the services and the data available from Perseus and CHS. New digital editions and new commentaries serving new purposes and giving voice to new points of view can, and hopefully will, emerge. If Perseus and CHS choose not to include them, neither Perseus nor CHS can block others from viewing them—or weaving Perseus and CHS data in with sources with very different points of view. It is simply impossible in a world of openly licensed data for one community to control the information and the points of view that are available to the public.
The goal is not simply to encourage specialists to produce open commentaries for promotion and tenure. If we have a real audience for Ancient Greek and Latin, we will see the emergence of commentaries that answer the questions that confront non-specialist readers and that truly seek to make Greek and Latin sources available to the broadest possible audience. If we do not see such commentaries emerge, then the study of Greek and Latin must rebuild its relationship to society or drift further into scholasticism and ultimately go extinct.
There are, of course, dangers inherent in openness and in an open society—it is easy to imagine cultural nationalists, for example, selectively appropriating data in order to paint a picture of Greco-Roman culture that is, depending upon the cultural nationalism involved, either unfairly positive or negative. Foreign governments will, sadly, use any mechanism to diminish their adversaries and the enemies of democracy will exploit the vulnerabilities of an open society. But the only defense against such behavior is, and can only be, as it has always been, the critical abilities and good faith of society as a whole—Thucydides had his Pericles say as much in the Funeral Oration more than two millennia ago. In other words, the only defense for philology must be to make our fellow citizens good philologists. Philology may pose challenges but philology alone can provide the answers.
The Diplomatic Scholarly Edition of the Venetus A manuscript of Homer
For the sum of $4,138, you can (as of April 15, 2018), purchase the six volume Erbse edition of the Homeric Scholia from Amazon. The Venetus A does not offer an overview of the Homeric scholia as a whole but it is a first step towards a new—and fundamentally superior—aggregate edition of the scholia. The CTS-compliant TEI XML Diplomatic Scholarly Edition of the Venetus A constitutes a fundamental advance over the coverage of the Venetus A in this monumental print resource.
First, it offers a complete transcription of the scholia. Erbse omitted a number of scholia (mainly those focused upon mythological topics), without specifically identifying where or how much he had chosen to leave out.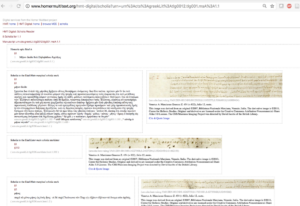 Fourth (and in my view most important), the Diplomatic Scholarly Edition of the Venetus A represents a new form of intellectual production and, like the linked Scaife Viewer and CHS Commentary, reflects a fundamental change in who can contribute to ancient languages. While faculty at Furman University, the College of the Holy Cross, and the University of Houston led the development of the Diplomatic Scholarly Edition, undergraduates in these institutions and others, both in Europe and North America, were responsible for the editorial work—roughly 200 undergraduates working for almost a decade. Some of the work took place as paid summer research scholarships but much, if not most, was done during the academic year by students working for no academic credit and for no financial reward. The Holy Cross Manuscripts, Inscriptions and Documents Club led the way in demonstrating that our students will go far beyond what (at least some of us) would have thought to be possible. Given an opportunity to advance human understanding, the Venetus A annotators learned (and taught each other) palaeography and scholiastic Greek, as well as a range of technical methods. The faculty were there and, of course, played an ongoing role in providing continuity over generations of undergraduate contributors (in the US system, eight years represents two full generations of four-year students), framing the technical infrastructure, and offering a (constantly evolving) editorial model (with questions, contributions and ideas from the undergraduates constantly fueling the insights of the faculty).
When I first heard that the HMT team planned to have undergraduates play a central role in editing the Venetus A, I simply did not think it was possible. I did not think that undergraduates would be interested in ancient commentaries or in learning how to decode the abbreviations and complex script of the manuscript. I had completely underestimated the idealism and desire to advance human understanding—I had not understood what would happen when our students had an opportunity to become citizens, with a voice of their own, in a Republic of Letters. And I have to say that I am constantly delighted at how wrong I was. Watching the rollout of the Venetus A event at Holy Cross on April 13, 2018, showed me that the study of Ancient Greek and of all ancient languages can have not only a long history but a dynamic future as well.
Reinventing Departments of Classics for a Digital Age: Mount Allison and Furman University, Philology and the Future of Work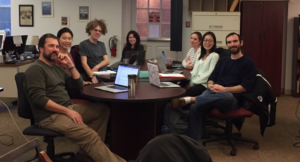 When Chiara returned to Europe, she continued to support the Tufts Digital Classics Club remotely, meeting with student members on a weekly basis via Google Hangout video-conference. When Chiara arrives at Furman in the fall of 2018, we will have a distributed Digital Classics Club, with participants at Tufts and Furman initially, but a model that can be replicated at more institutions. Students from small departments in multiple locations will be able to work together and, at the very least, to recognize that they are part of a larger community, one that can extend across many countries and languages.
The Holy Cross Manuscripts, Inscriptions and Documents Clubs are not just distributed systems to generate useful scholarly materials (although they are that). They represent a new mode of intellectual production that challenges students to fashion themselves as citizens in a Republic of Letters, rather than as subjects of a pedagogical machine in which they strive to match preset activities.
Teaching this course will be a challenge for me—for years I have spent my time writing grant proposals to enable the next generation of philologists to acquire hands-on facility with a growing range of text analysis and visualization tools. Now I have the chance (and the necessity) to throw myself back into the new literature, rapidly evolving services in a growing range of languages, and vastly expanding collections of textual data of increasingly disparate types. While I remain the immigrant parent who never quite masters the accent or the native culture, I can provide a framework whereby a new generation of students can develop fluency and familiarity with new ways of working with text that can change their lives forever.
Conclusion
I expect that we may produce very different scholarship as we more fully adapt to the digital age and it is possible that this scholarship will be at once more ambitious and better grounded in evidence. We may experience a golden age of philology. But the most important change is not how philologists feel about each other, it is about how the rest of society feels about philology. It is not how smart we professionals appear but how smart we can make everyone else who is not a professional. Each of the recent advances above can be viewed as important in isolation. Together, they exhibit clear trends in the reorganization of how we study the past and who has a voice.
Footnotes
---